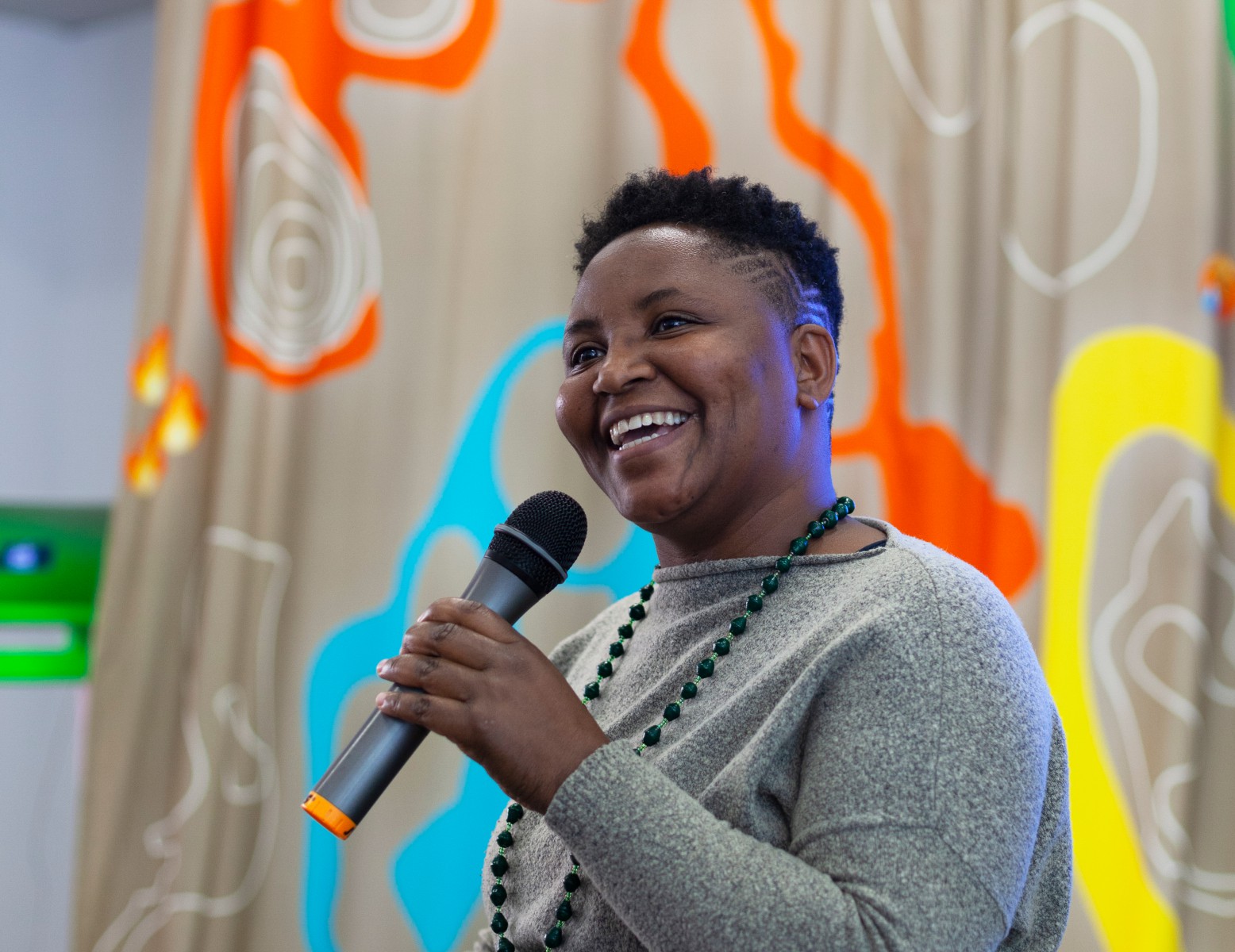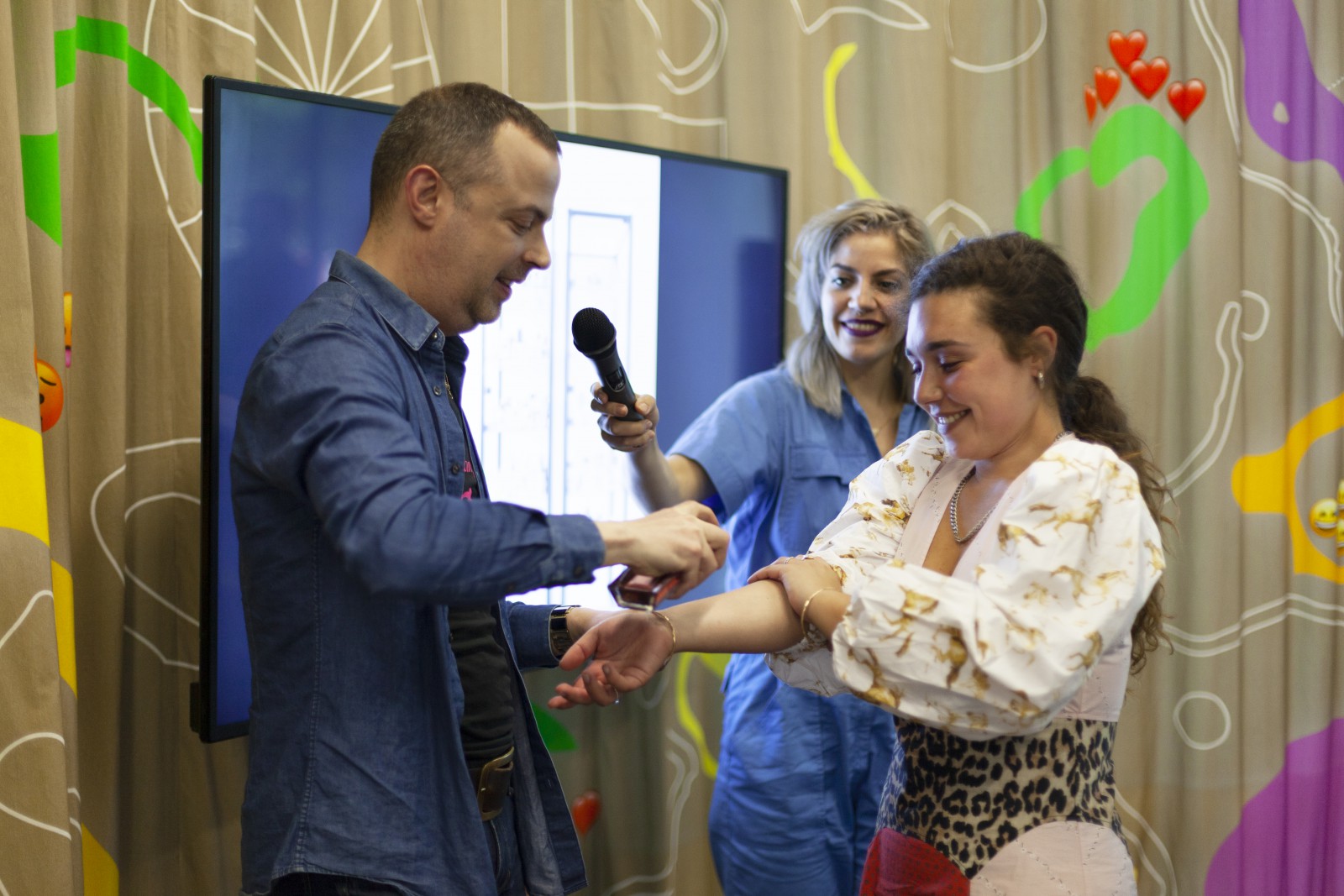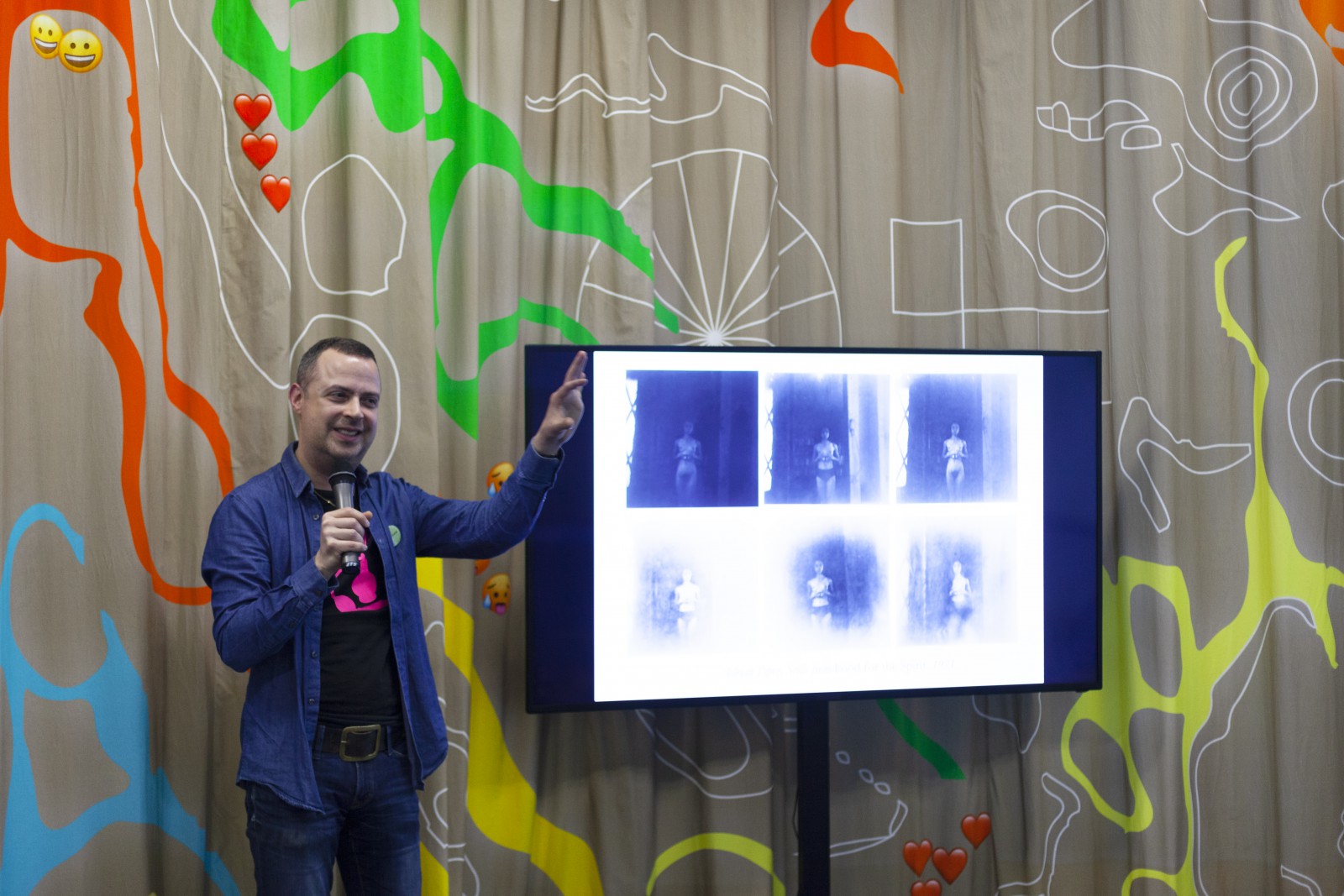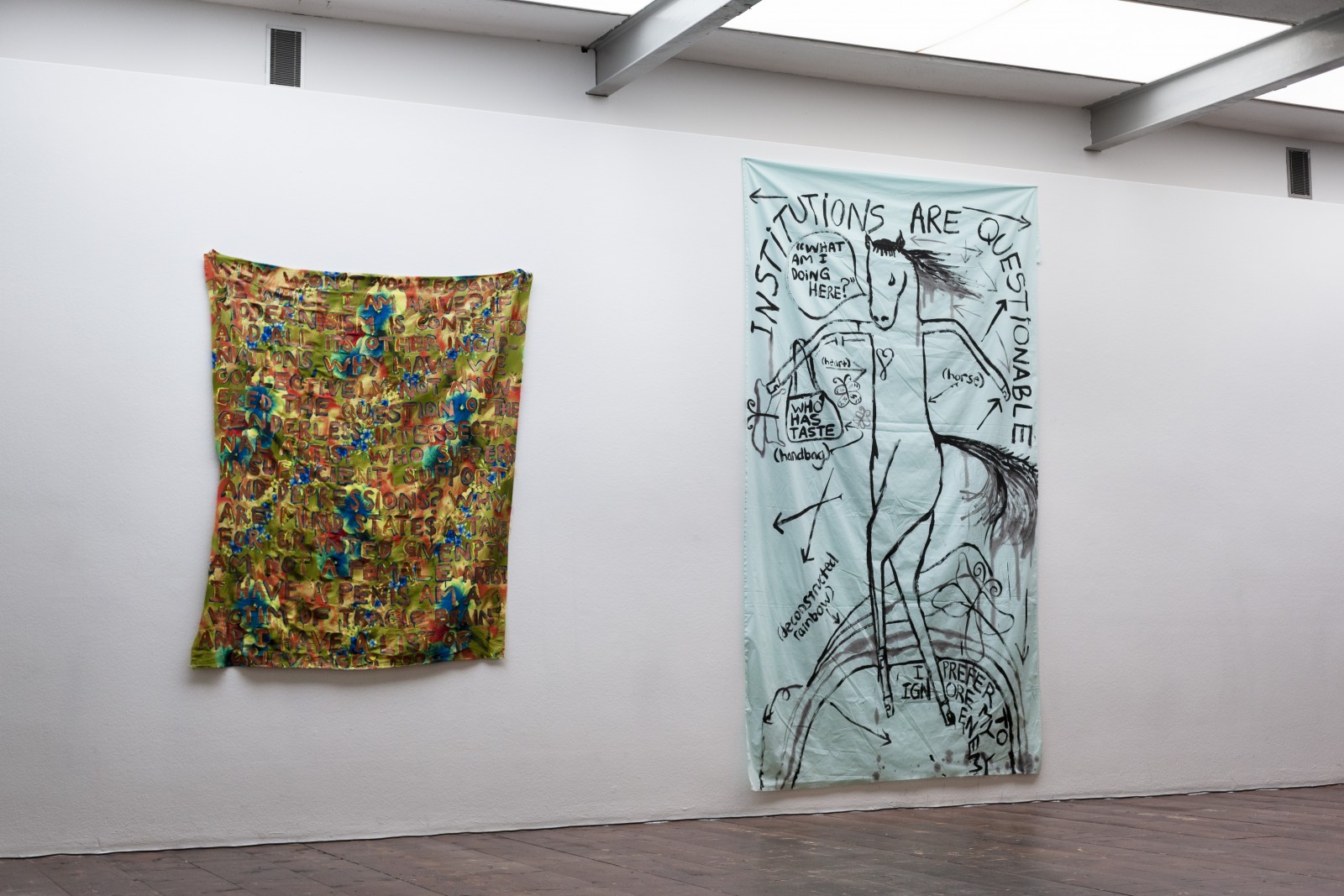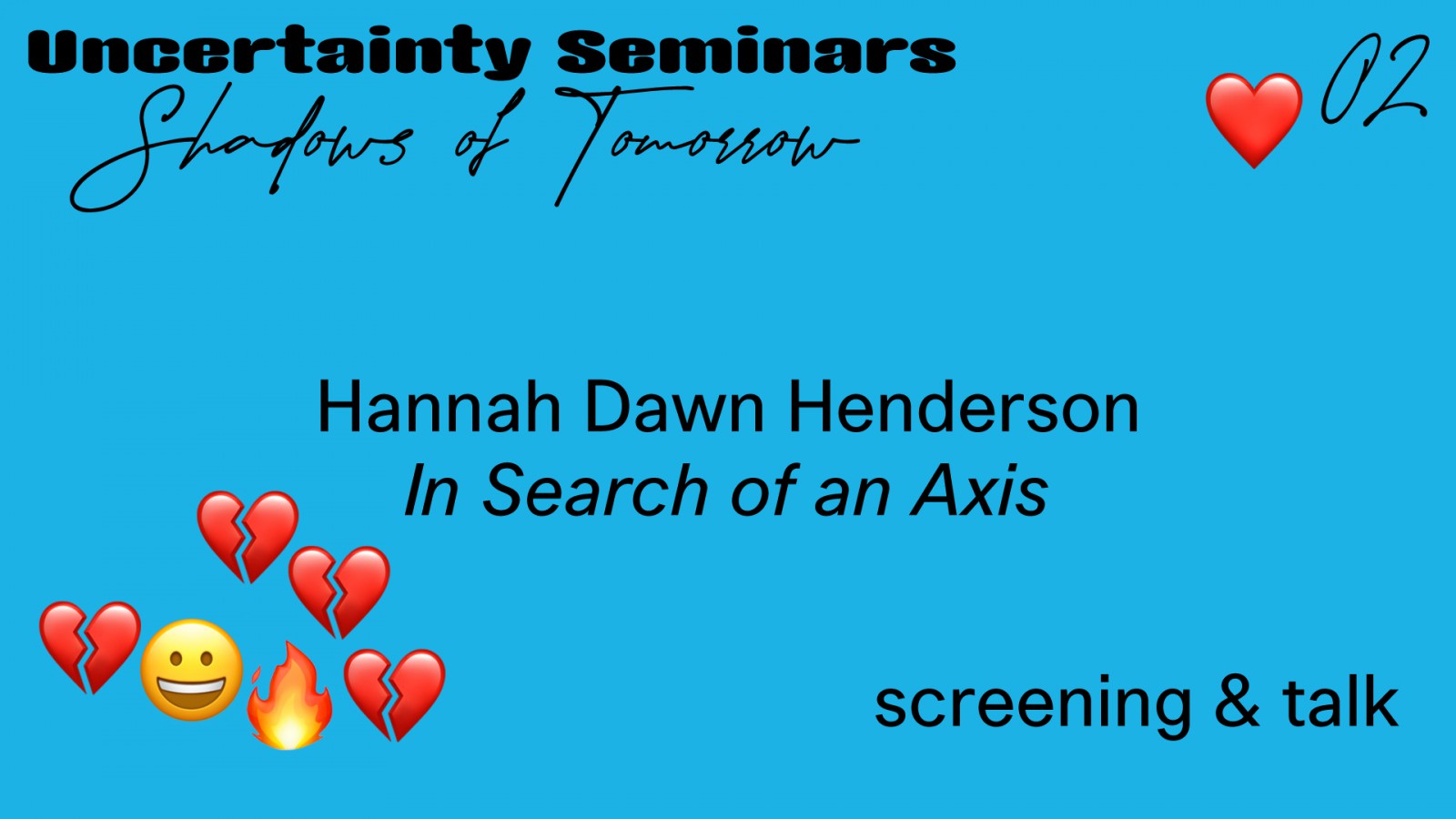 14 — 16 June 2019

Uncertainty Seminars: Shadows of Tomorrow delves into notions of time, rewriting histories and possible futures. The artists, makers and thinkers contributing to this program share an interest in (fragile) archives, shifting temporalities and making ways for other scenarios ahead by amplifying multiple voices.

During Stroom's opening hours you are welcomed in the main space with a set design, sound works, publications and visual pieces by the artists in the program of this edition. On Friday and Sunday, a diptych of two sound pieces by Aurélie Nyirabikali Lierman will be presented at 16.00h.

On Saturday from 11.00–15.00h, there is a workshop by Ioanna Gerakidi. On Saturday from 16.00h–20.00h the public program takes place with screenings, performance, talks, and sound works. Find the timetable below, and get your ticket in advance by purchasing the bonustrack of Uncertainty Seminars: Shadows of Tomorrow on → Bandcamp.

curated by: Ilga Minjon & Radna Rumping
design: The Rodina
PROGRAM SATURDAY 15 June
15.30

16.00

Ilga Minjon & Radna Rumping

introduction

16.10

Aurélie Nyirabikali Lierman

a diptych of two sound pieces

16.45

screening + talk

17.35

Schemas of Uncertainty
(Callum Copley & Danae Io)

presentation

break

18.50

reading

19.15

sharing event

20.00

Lynnée Denise
& drinks at the bar

mixtape
Aurélie Nyirabikali Lierman
a diptych of two sound pieces
Aurélie Nyirabikali Lierman was born in Rwanda but grew up in Belgium from the age of two. She's an independent radio producer, vocalist and composer. Lately, Lierman is trying new directions by fusing radio art, vocal art and composition. Her main focus is her personal field recordings: a large collection of unique sounds and soundscapes from rural and urban contemporary EastAfrica. Soud-bit by soundbit she's transforming and sculpting them into something she would call 'Afrique Concrète'. Lierman studied Composition (MA) at the Royal Conservatory of The Hague. Her work has been broadcasted, exhibited and performed internationally. Lierman presents a diptych of two sound works, both based on recordings from her ever-growing archive called Africa On Tape.
Just Outside the Wombskin (2012, radio composition, 10'10", 4.1 cross stereo) is an ode to Lierman's ancestral land in general as well to her grandfather's incredible legacy and age in particular. He, Kanyoni Ladislas - just turned 109 at the beginning of 2019, lives on volcano Mt. Karisimbi in Rwanda and perhaps is one of the last precolonial traditional hunters and traditional doctors. Lierman visits him as often as possible to record their ongoing conversations about his past. All sounds heard are purely based on recent field recordings from her grandfather's house and village.
iota mikro (2012, radio composition, 8'43", 4.1 cross stereo) builds up like a dream sequence, inviting us into an intimate and introspective journey by evoking imaginary memories from Lierman's very early childhood years. iota mikro is an artistic reflection on her double identity, Belgian and Rwandan, revealing her experiences of the two different realities. All sounds heard are recent field recordings from Lierman's birthplace at the Karisimbi volcano. Since her real paper birth certificate is missing, this is Lierman's sonic birth certificate. iota mikro is dedicated to her Rwandan Belgian godchild Jerom Dom.
Hannah Dawn Henderson
screening + talk
Hannah Dawn Henderson (Livingston, Scotland) is an artist and writer based in The Hague and Manchester. Adopting a vocabulary from performance, video and graphical media, all underpinned by a literary voice, her practice negotiates questions of voice, identity and selfhood, authorship and authority.
In Search of an Axis (17 min 48 sec, 2017) is a video essay filmed along the docklands of Kingston-upon-Hull (UK), an area historically associated with transactions of import and export. The film meditates upon the cyclical nature of societal dynamics, the experience of possessing a heritage of displacement, and the politicization of the body. Featuring a series of site-specific movement sequences inspired by archival imagery of protest gestures, the loose narrative of the film considers how the body is both a vessel that transcends places and time, yet also a territory unto which political power plays are exerted.
This work is part of a longer research process that Henderson undertook at the Hull History Centre, where she engaged primarily with the archive of Liberty, formally known as the National Council of Civil Liberties, a UK-based human rights organization initiated in 1934. This proved to be as much an investigation into the history of British colonialism as it was research into what it means in the current day to belong to a diaspora formulated by those colonial practices, whereby one's identity is seemingly both fragmented and yet demanding of definition.
Danae Io and Callum Copley
presentation
Schemas of Uncertainty focuses on the role of prediction within current technological infrastructures whilst drawing connections to divinatory practices to speak about the relation between prediction and prescription. Themes stem from the research project Schemas of Uncertainty addressing the notion of predictions as a long-standing interest of human beings through their histories, but also as inscribed into the techno-capitalist present.
Danae Io is an artist and researcher based between Amsterdam and Athens. She holds an MA in Fine Arts from the Sandberg Instituut and has previously studied at Goldsmiths University of London. Her research and art practice rotate around the subjects of voice, language, legibility, the technological, and the incalculable.
Callum Copley is a writer and researcher based between Amsterdam and the UK. Through his works of both speculative fiction and academic essays, he examines how emerging technologies constitute new forms of political and cultural domination. He holds an MA in Critical Studies from the Sandberg Instituut and was co-founder of Registration School in London.
Ioanna Gerakidi
workshop + reading
Ioanna Gerakidi is a writer, curator and educator based in Amsterdam and Athens. Her research subjects rotate around philosophies of language and paralanguage and feminist, queer and anti-colonial studies. She holds a BA in Media and Communication Studies (University of Athens) and an MA in Critical Studies (Sandberg Instituut). She has collaborated with and curated shows/events for among others LIMA, Athens Biennale, Athens Digital Arts Festival and Hot Wheels Projects. Her texts are published through several publications, platforms and magazines, and have acted as performative gestures at institutions such as Kunstverein Amsterdam, Künstlerhaus Stuttgart, CAC Vilnius, and Athens Festival. She has initiated and led workshops and reading groups for several academies and alternative educational programs in Europe, such as Rupert, Athens School Of Fine Arts and Rietveld Academie. For Uncertainty Seminars she developed the workshop Three Acts of Straying and Other Amorphous Vibrations taking place on Saturday morning. During the public program she does a reading of fragments of a new text under the title: I had a bad dream, three people against me, an umbrella between my breasts.
1. I don't like it when people don't reply to my messages.
2. Yet, I want to see you.
3. I know that silence is an answer.
4. However, I would appreciate it if you would send me a textual response.
5. A rejective one is also welcome.
6. It's rare, but I do believe that words would make me feel better now.
7. You said, do not forget me. I replied, I won't, instead I should have said, do not forget me either.
8. But you did.
9. Therefore, I'm done with any effort to think through or touch impossibility. I keep on failing; and it hurts.
10. To engage loss, to be lost and to never be found. A summary of my erotic life. In literary terms, a leitmotif.
11. Meaning, the leading motive. I'm looking with a love that goes against hierarchies.
12. And here it is: a prominent leader disrupts my horizontal becoming, again, violently.
13. Time in Providence: 6:38 AM
14. I assume you are not awake.
15. I received an email a few hours ago, a professional one. I was sleeping, it was during the night that the email reached my inbox. I read it in the morning. Do you know how it ends?
16. Greetings from Providence.
17. Resonance.
18. One that does not include you.
19. Can you people, and other species, please stop making me feel that happiness exists, that erotic feelings can be reciprocal, that an unconditional affection hasn't yet been vanished?
20. I'm a romantic.
21. And I do temporarily believe you.
22. And then: the dark hole.
23. That goes deeper and deeper.
24. Where does it end?
25. The problem is that I smoke too much,
and climbing makes me run out of breath.
26. And I'm stuck in middle of the hole, it's all blurred around me. (smooth voice, the tone you would use for singing a lullaby)
27. I can not see the sun. Where is the sun? (radical shift of the same voice, excess in sentiment, scream).
28. Staying with the pain.
29. It is not.
Sands Murray-Wassink
sharing event
"Because I am not really in the market or public after all these years (which could change, but might not) I am making the beginnings of my activity public alongside what I do today. I have been quite consistent in my development – things I made or did when I was 20 feel the same as what I am doing now, even though I have developed as a person. Other artists have been very important in forming my identity as an artist and a person: Carolee Schneemann, Adrian Piper and Hannah Wilke to name the main three. I was born in the USA but am annoyed that the magnetic pull in the world seems to be in that direction. I wish for more flattening of the playing field."
During the Uncertainty Seminars, artist Sands Murray-Wassink invites you to 'Confrontation / Permission / Empowerment: Obsessive, Fragile, Unteachable and Pretty Good With Names', a sharing event relating to his ongoing process archive and the artists that have been important in his (artistic) life. Keywords: beyond the visual, eco-feminist art, relationships, behaviors, feeling and expressing feelings and emotions, sharing information, embodied sensual visceral erotics, (artist) names as representative of a larger web of meaning (a person as an archive), manic depression, speaking for oneself, etc.
The Rodina
interior design
The Rodina (Tereza and Vit Ruller) is a design studio with an experimental practice drenched in strategies of performance art, play and subversion. For Stroom Den Haag they have developed numerous designs for programs and exhibitions since 2014. with WeberWoche – a program celebrating re-enchantment in arts and society – and Attempts to Read the World (Differently), a thematic program about the potential of boundless imagination for a world in drastic change, the umbrella under which Uncertainty Seminars was born in 2017. For this new series, the Rodina created Scattered Map, a backdrop and furniture partly made out of Stroom's former entrance space architecture. The shapes in the map pulling the regions' lines are based on extraterrestrial meteorological weather flows, while the geometric forms work as vertigo to soak the viewer into this playground. The Rodina believe in the importance of 'playing' for an empathic society to develop, inspired by Johan Huizinga's writings about the homo ludens.
The map was developed with a strong sensitivity to the concepts of Uncertainty as a critical tool, notions of networked a ect and with fictional names that point to inspiration of the program and imagined places the mind might visit.
Lynnée Denise
sound collage, mixtape
Lynnée Denise is an artist, scholar, and producer whose work reflects on underground cultural movements, the 1980s, migration studies, theories of escape, and electronic music of the African Diaspora. Denise coined the phrase 'DJ Scholarship' to re-position the role of the DJ from a party purveyor to an archivist, cultural custodian and information specialist of music with critical value. Through interactive workshops, lectures and productions at universities, conferences and performance venues, Denise harnesses music as a medium for vital public dialogue on how to transform widespread social inequality. Her work has been featured at institutions such as the Broad museum, the Tate Modern, Savvy Contemporary Gallery Berlin, Goldsmiths University of London, Iziko South African Museum, the Schomburg Center for Research in Black Culture, Stanford, Yale, NYU, and Princeton University. Her writing has been featured in the Los Angeles Review of Books, The Black Scholar Journal, The Journal of Popular Music Studies, and as part of anthologies including Women Who Rock, and Outside the XY, Queer Black and Brown Masculinity.
Her contribution to Uncertainty Seminars: Shadows of Tomorrow is the sound collage State Funeral, a multimedia project that employs recordings of interviews and performances to portray the experiences of Black artists in the music industry, which she identifies as an economic institution that emerges from chattel slavery. Denise will ask how the pervasive narratives of fame, addiction, and financial exploitation minimize the ability of black artists to benefit from their labor and intellectual property. State Funeral is installed in the main space and can be visited during Stroom's opening hours on Friday and Sunday 12:00-17:00h; and on Saturday 12:00-16:00h. In the public program on Saturday a mixtape will be played referencing the themes of Shadows of Tomorrow with African Rythm Fiction.
CONTACT
Stroom Den Haag
Hogewal 1-9
2514 HA Den Haag
+31 (0)70 3658985
info@stroom.nl
www.stroom.nl
STROOM THANKS