04.
Other Than Art's Sake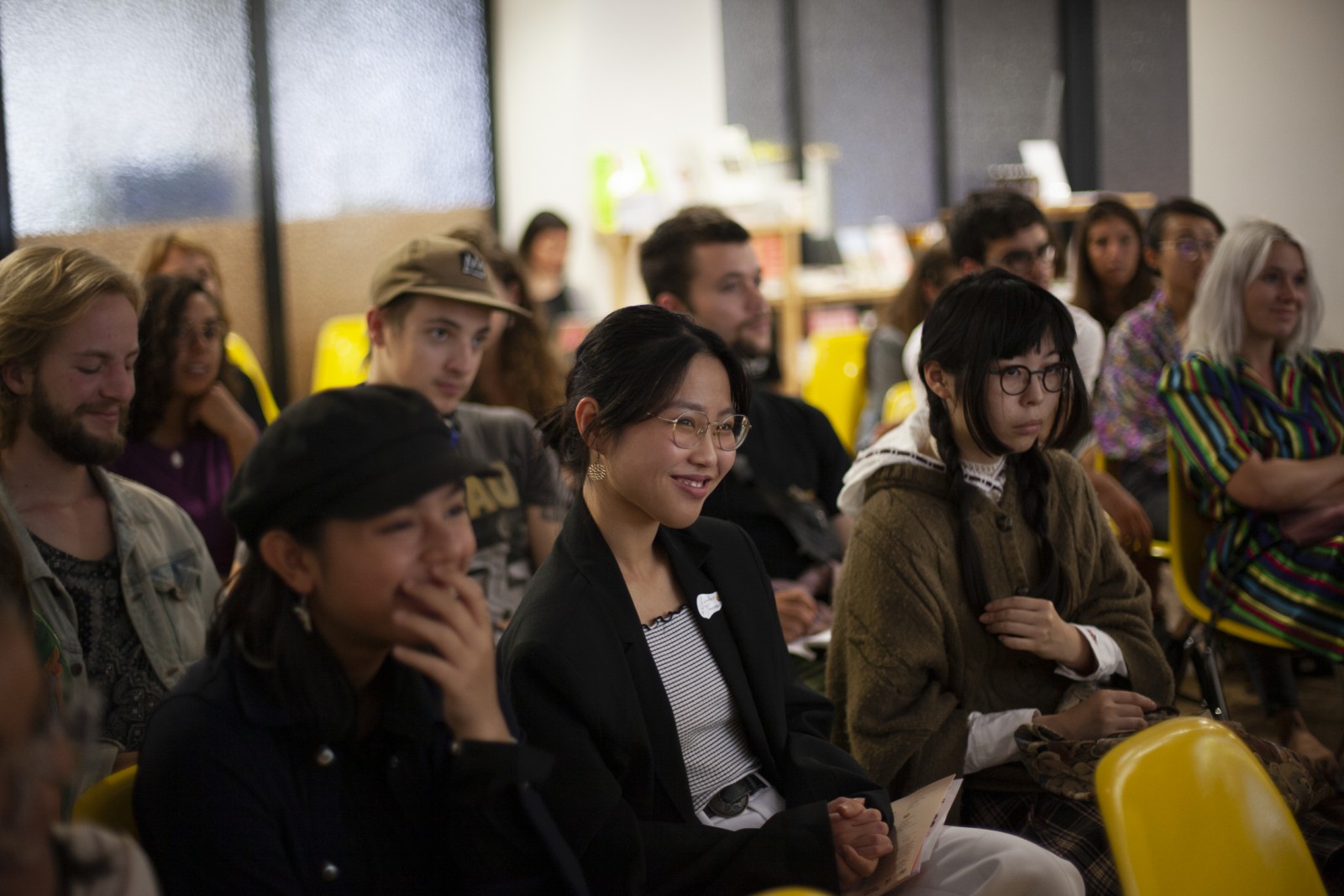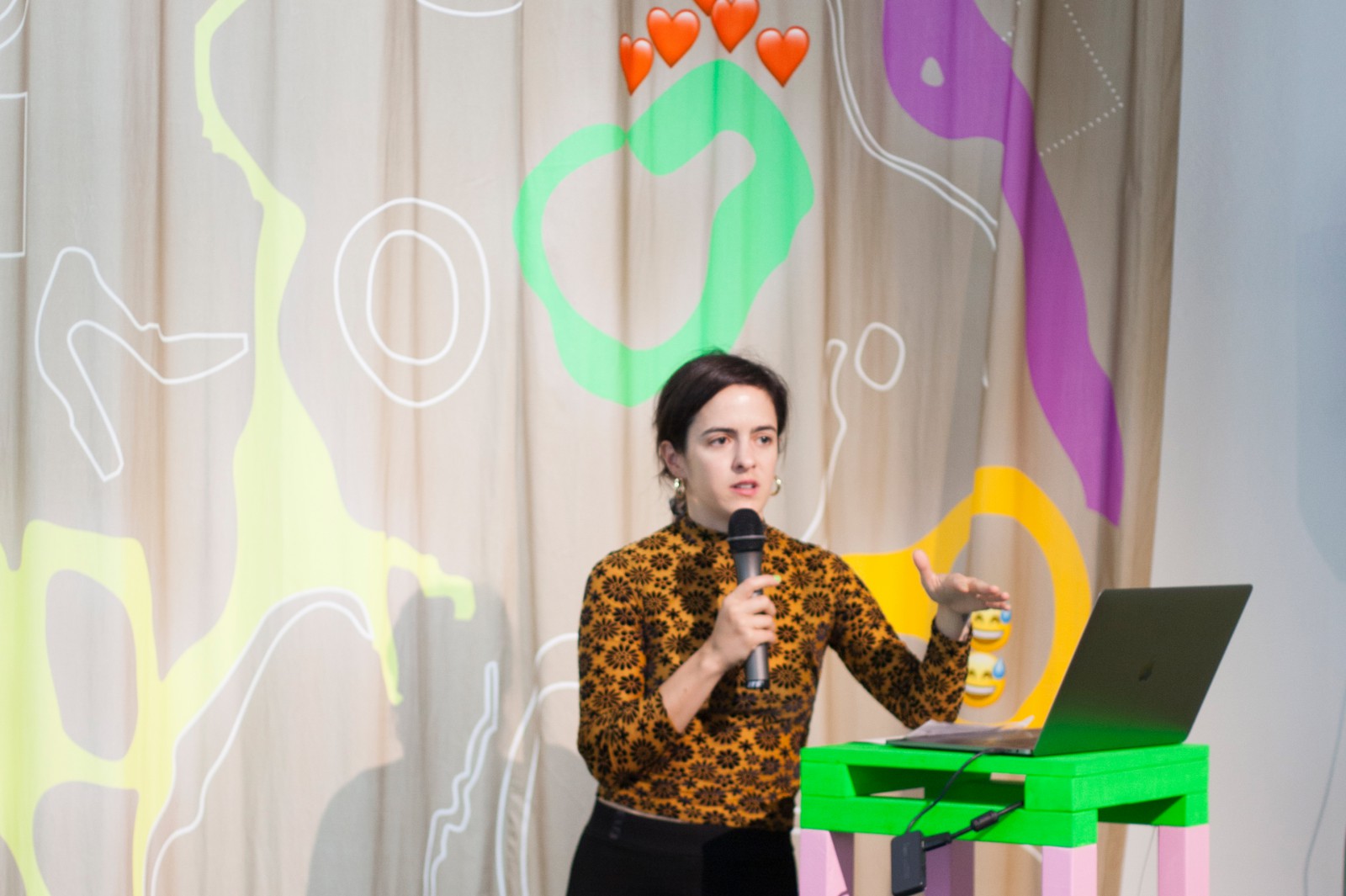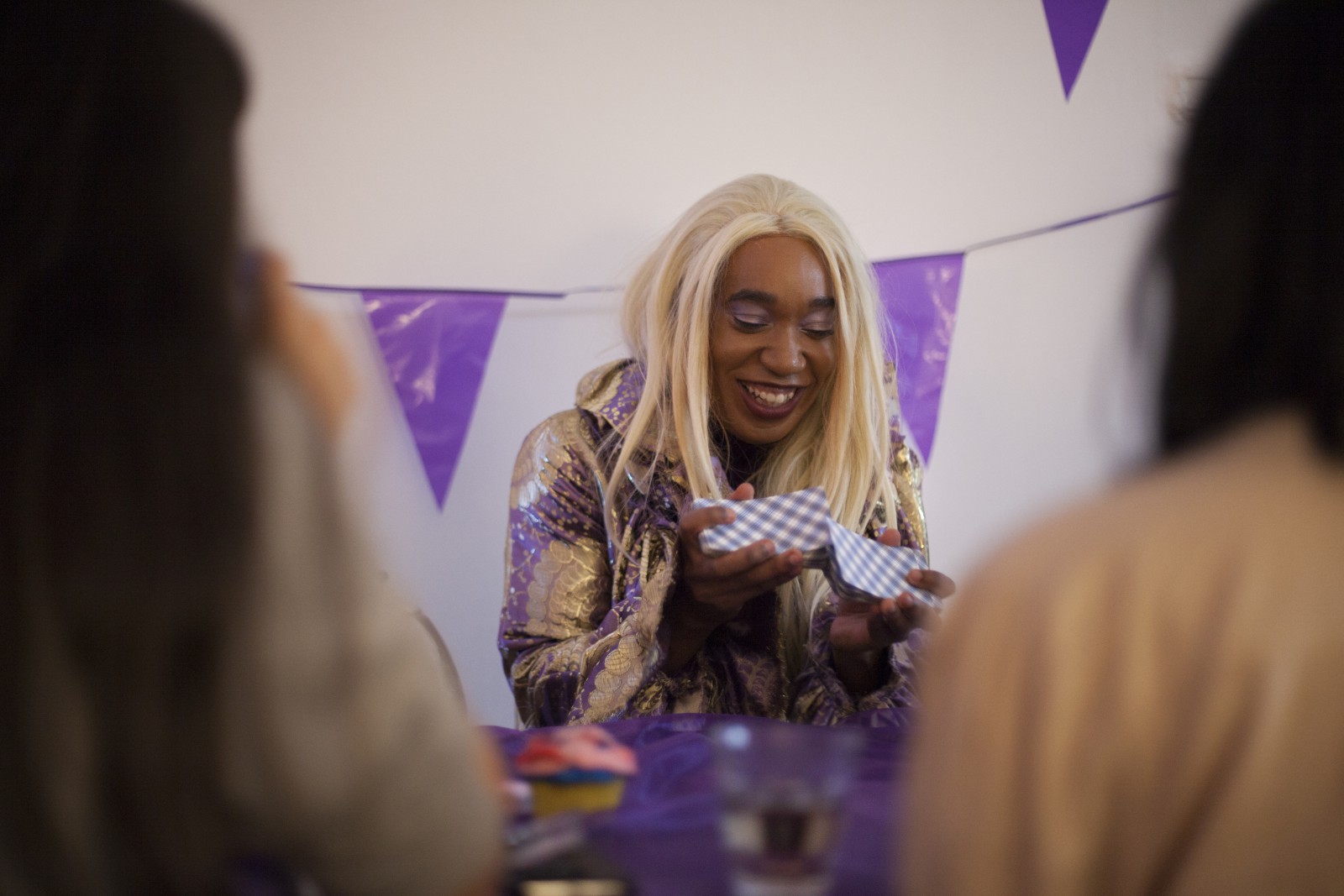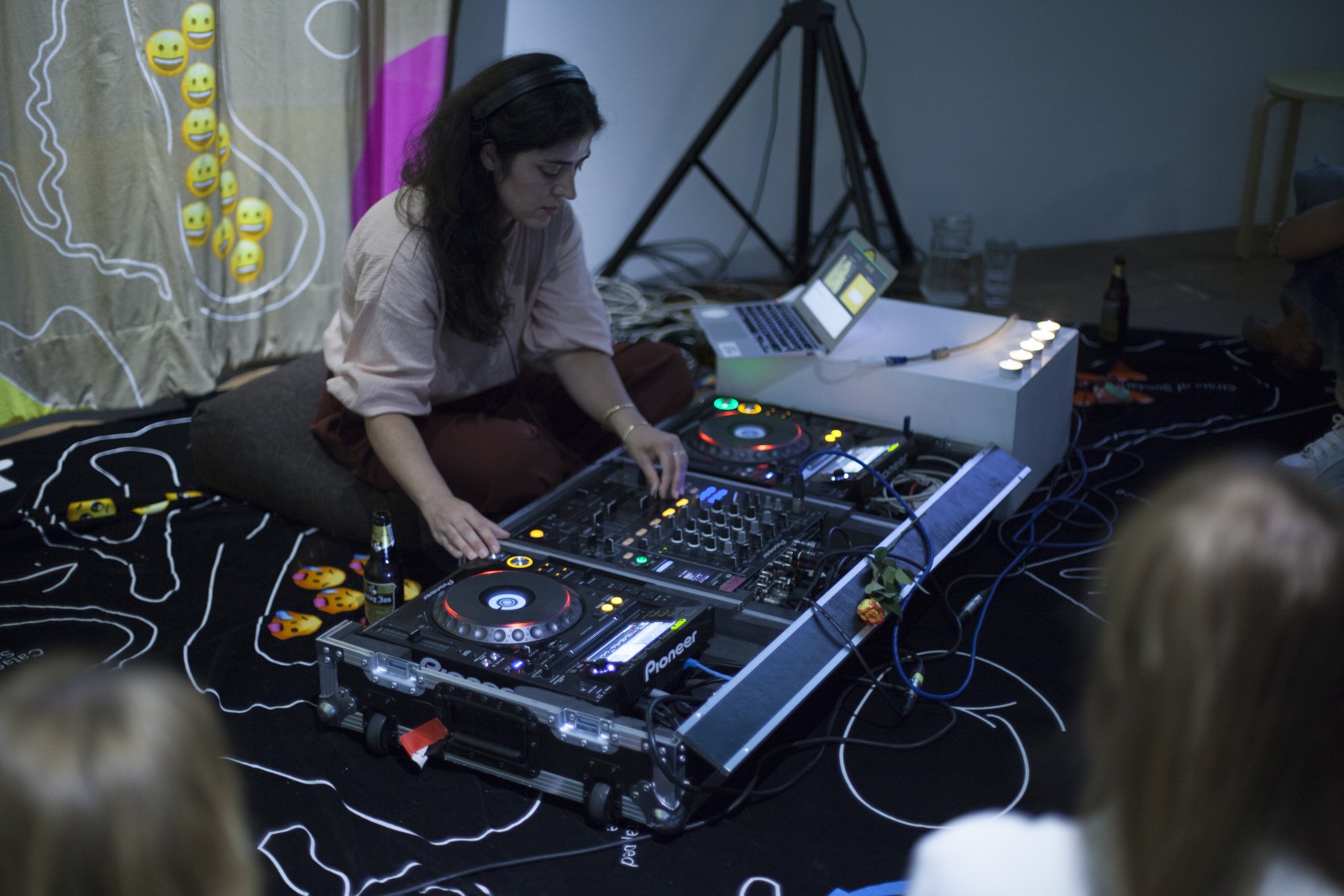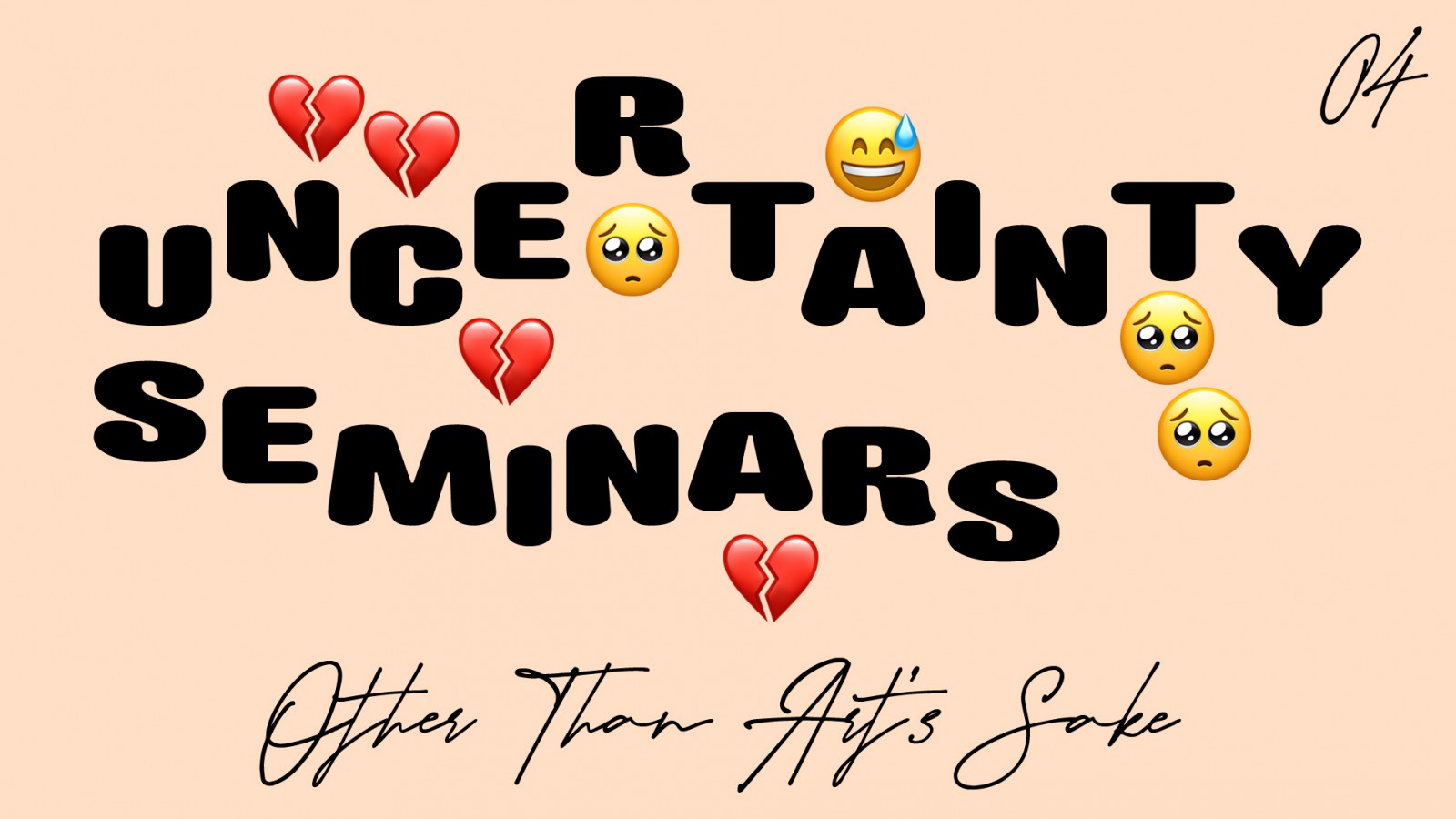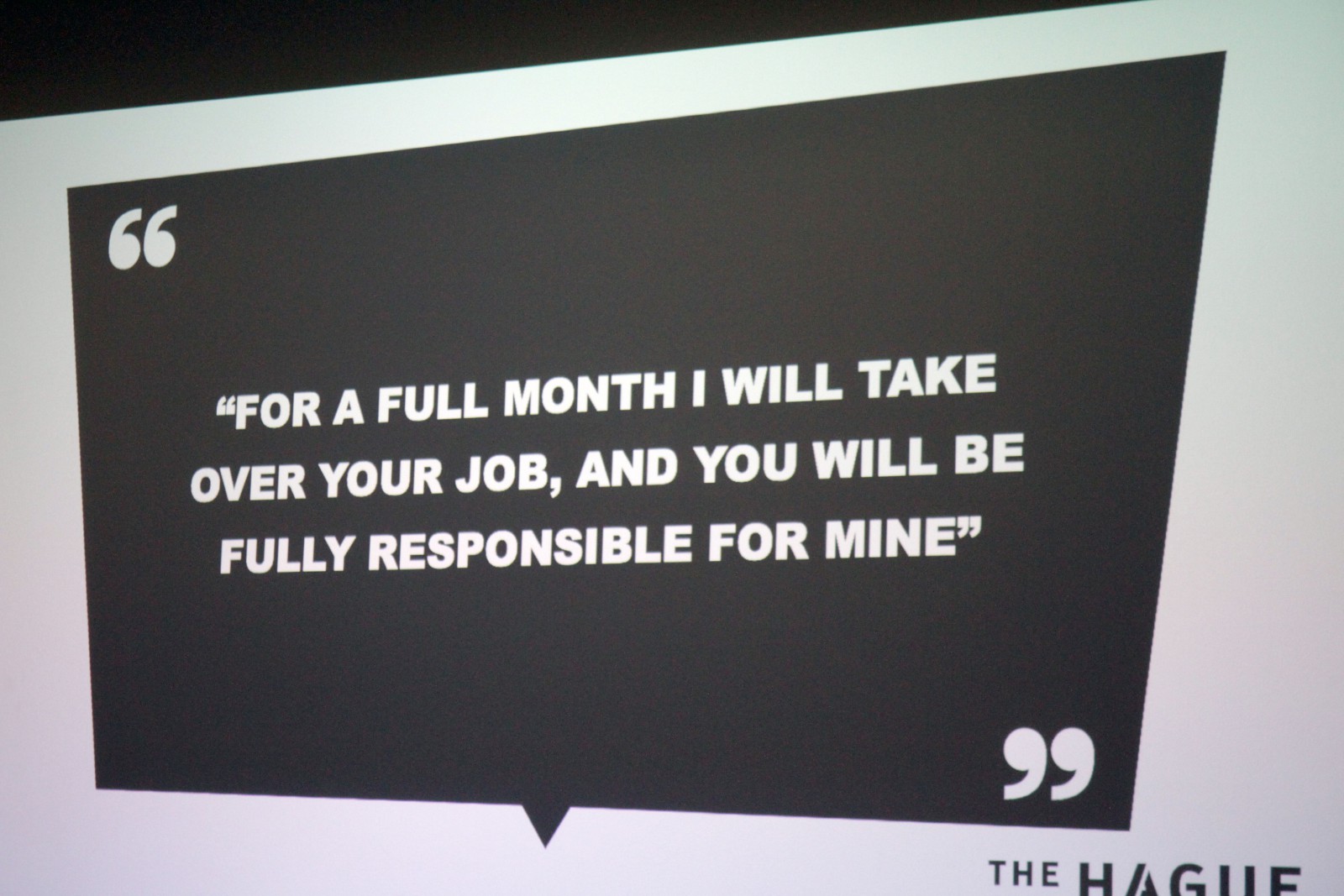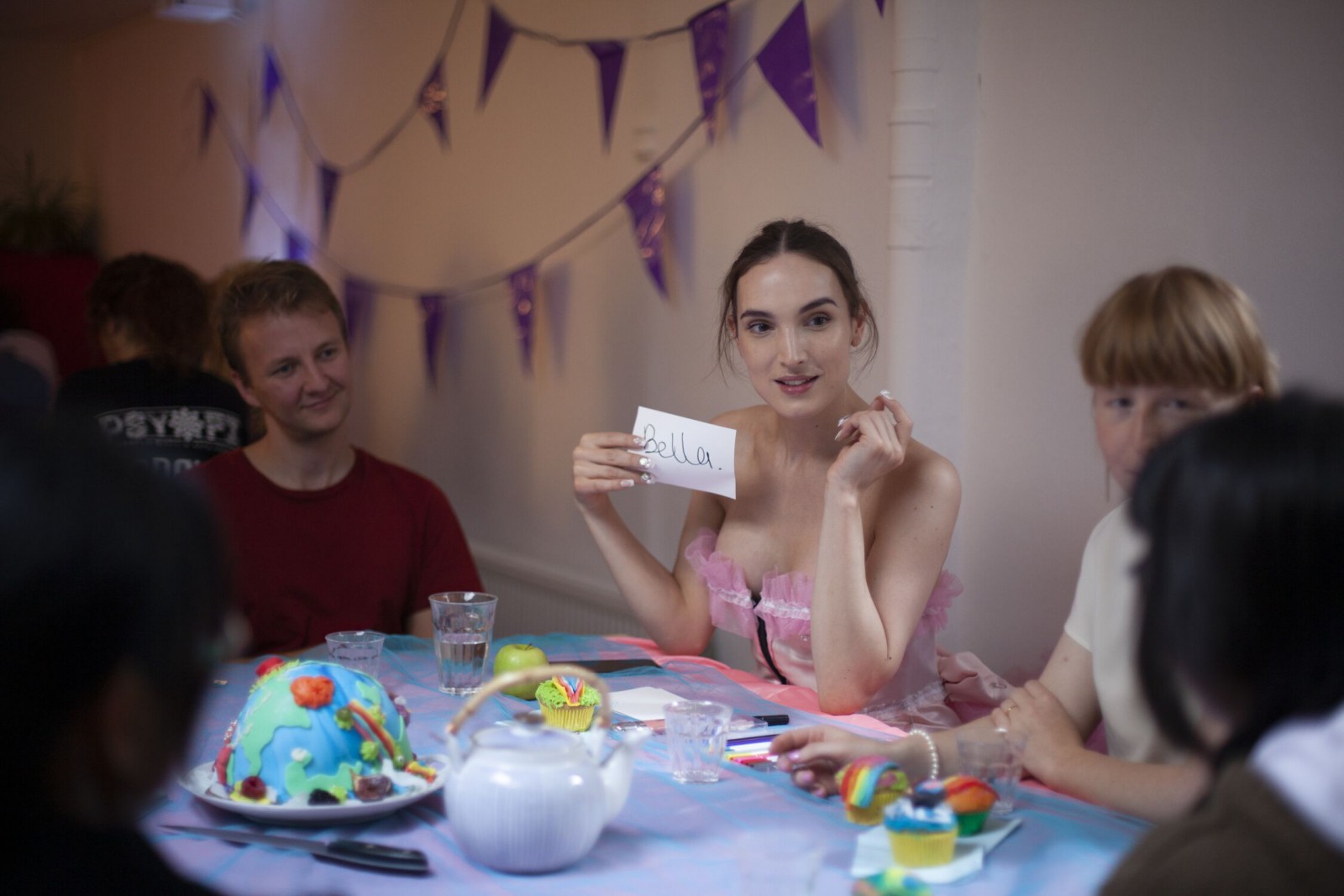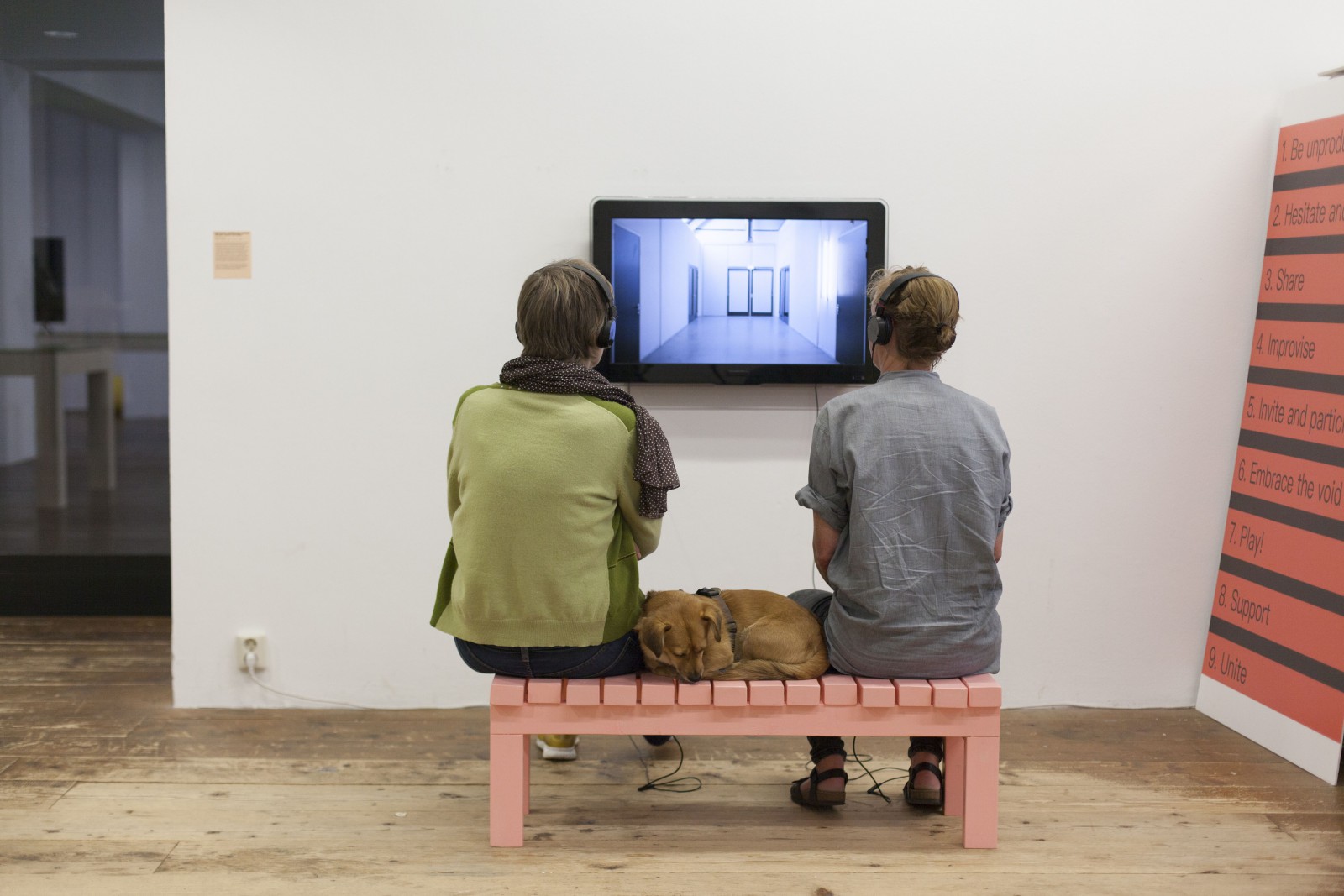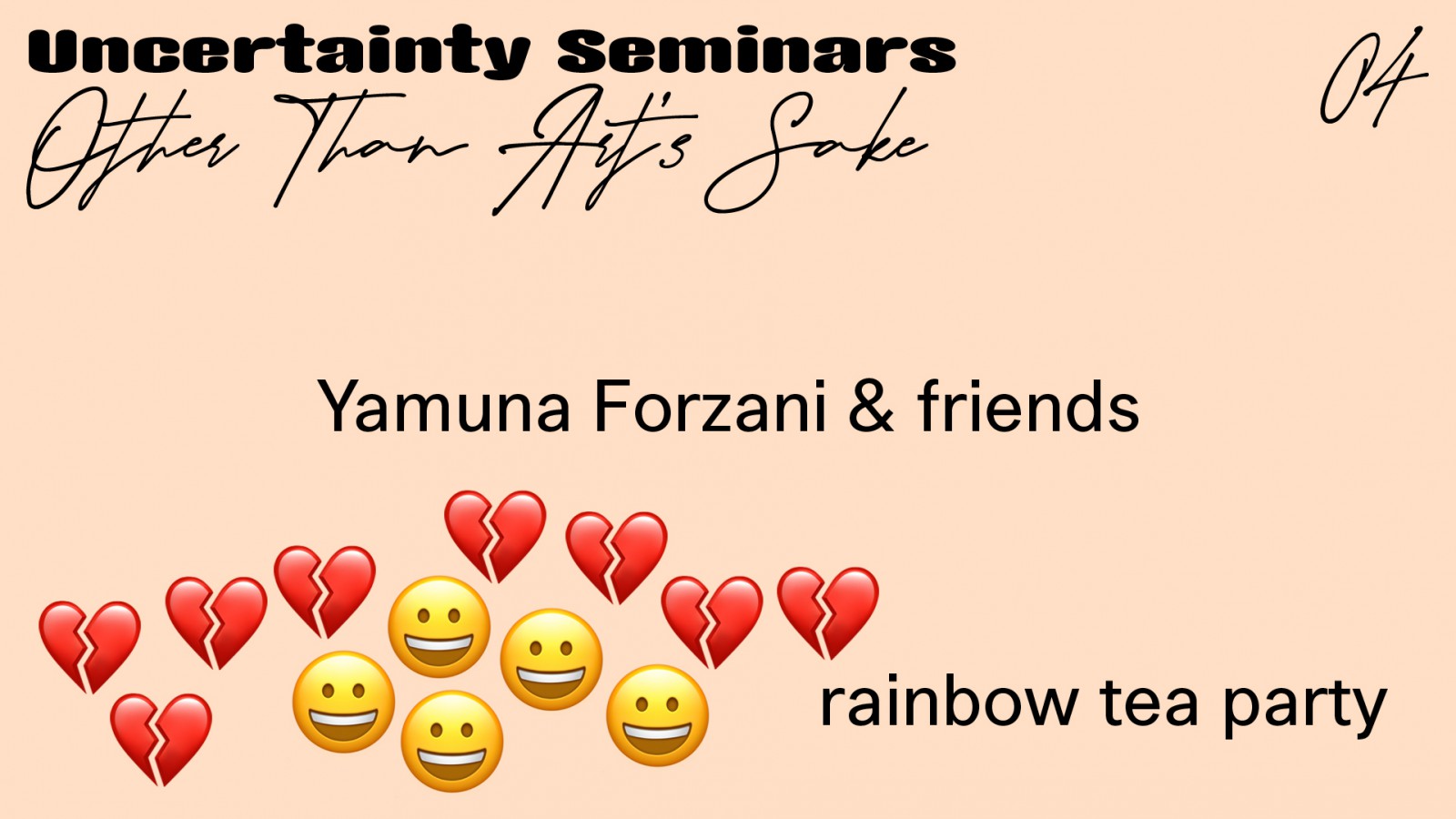 13 - 15 September 2019

Uncertainty Seminars: Other Than Art's Sake teases out the multiform positions that artists may inhabit and in what ways other domains seek refuge under the wide umbrella of arts. How can we learn from different practices, like activism, branding or journalism? And how may the experimental, empathic exchange and non-linear thinking from art practices, be applied in society?

During Stroom's opening hours you are welcomed in the front space with the Uncertainty Seminars set design installation, artist publications and video works are on view in the front space and library.

On Friday, September 13th from 13.00 - 17.00h, artist Susan Ploetz hosts a LARP workshop on bodily senses of safety in relation to law-making. The first public program takes place on Friday from 19.30 - 22.00h with screenings, performance and talks.

The second public program is on Saturday, September 14th from 15.00 - 20.00. Find the timetable in this handout.

This edition is named after the seminal film Other Than Art's Sake (1973-74) on alternative artistic practices, by Australian artist Peter Kennedy.

curated by: Ilga Minjon & Radna Rumping
design: The Rodina
PROGRAM FRIDAY 13 SEPTEMBER
13.00

workshop

19.00

19.30

Ilga Minjon & Radna Rumping

introduction

19.35

Stijn Verhoeff & Sjoerd Leijten

screening + q&a

20.15

screening

20.55

21.15

Céline Berger, Martijntje Hallmann & Jacco van Uden

presentation
PROGRAM SATURDAY 14 SEPTEMBER
14.30

15.00

Ilga Minjon & Radna Rumping

introduction

15.10

Daniela & Linda Dostálková

prelude

15.15

lecture

16.15

rainbow tea party

17.15

presentation

18.00

intermezzo

18.10

19.00

DJ discourse (Katayoun Arian)

lecture performance

19.40

music & drinks at the bar
ONGOING INTERACTIONS DURING OPENING HOURS
Céline Berger, Since We Are Here (2019)

film

Various artist publications

Christian Nyampeta, bonustrack and film

film
Susan Ploetz: Senses of Security. A larp workshop.workshop
Susan Ploetz conducts artistic research through embodied simulations and co-creative world building using techniques from progressive larping and somatic practices. She focuses on multisensory imagination, which is not strictly language based but follows the knowledge of the body. LARP stands for live action role-playing, a game where participants explore in a playful way scenarios, while interacting with each other in character. For Uncertainty Seminars Susan Ploetz developed the workshop Senses of Security, dealing with senses of security and law making through speculative social prototyping. Keeping the context of The Hague as International City of Peace and Justice in mind, participants are invited to engage with how interpersonal and bodily senses of safety could be scaled up to methods of law making. Participation of free of charge, though space is limited, please sign up via info@stroom.nl.
Ansage Ende by Stijn Verhoeff & Sjoerd Leijtenscreening + q&a
Stijn Verhoeff is an artist with an interest in music, literature and activism. Sjoerd Leijten is a musician and radio maker with a focus on dissident sounds, improvisation and politics. Together they've developed audio and video works, presented in site-specific installations or screening experiences. Their new short film Ansage Ende (2019) explores the relationships between text, music and image and calls in an atmospheric manner for an activist approach to the climate crisis. The film moves from an imaginative journey through an empty landscape, to the visible climate destruction around a brown coal mine, into an old barn - ending with a short, but poignant sci-fi excursion where a megaphone choir suggests a collective uprising: "The seas are rising and so are we!"
Other Than Art's Sake by Peter Kennedyscreening
Artist Peter Kennedy is an experimenter of art forms and content since the early 1970s, when he was the first to present neon works in Australia and co-founded the conceptual art space Inhibodress Gallery in Sydney. His seminal film Other Than Art's Sake (1973-74) looks at the work and ideas of New York, Los Angeles and London based artists Adrian Piper, Hans Haacke, Charles Simonds, David Medalla, Ian Breakwell, Stephen Willats, Judy Chicago and art historian Arlene Raven. Specific to the cultural moment of the late 1960s and early 1970s, the film draws on liberal, democratic and humanist ideals and examines the ways in which their practice, as artists, responds to those ideals. The film offers a unique view into alternative artistic practices that remain detectable in contemporary practice today.
Originally filmed in 16mm black and white film with optical sound, 42 min
This screening uses a digital copy that is 36:41 min; due to sound issues David
Medalla's segment is not included.
Céline Berger, Martijntje Hallmann & Jacco van Udenpresentation
In March 2017, Mercedes Azpilicueta and Jacco van Uden swapped jobs for a full month. Mercedes took on the position as head of a research group on change management, while Jacco took over Mercedes' work as a visual and performance artist. The aim of this exchange was to explore how art and organization relate to each other. Investigating and questioning the preconceptions of the worlds we work in – the world of 'the other' as well as one's own world. In a style that mirrors the capricious nature of the job swap itself, the short film Since we are here (2019) made in collaboration with Céline Berger, reflects on experiences that are as much individual as they are universal: feeling estranged, adjusting to new spaces, and finding new areas for action. The film is on view at Stroom's entrance space throughout the weekend. On Friday evening Jacco van Uden, Céline Berger and Martijntje Hallmann share their thoughts on the project.
Mercedes Azpilicueta (1981) is a visual and performance artist from Argentina based in the Netherlands. She was artist-in-residence at the Rijksakademie van beeldende kunsten in Amsterdam in 2015-16.
Céline Berger (1973) is a French visual artist living in Cologne, Germany. Trained in physics and material sciences, she worked for various international microelectronic companies as a project engineer from 1997 to 2008. Céline was a resident at the Rijksakademie van beeldende kunsten in 2012-13.
Jacco van Uden (1972) is a professor of Change Management research group (lectoraat) at The Hague University of Applied Sciences. Martijntje Hallman is head of Residency at the Rijksakademie van beeldende kunsten.
Daniela & Linda Dostálkováprelude
The work of Daniela & Linda Dostálková deals with a concept of the autonomous hybrid social 'art practice'—blurring the lines between disciplines, challenging accepted distinctions, in the questioning of identity. They trace unexpected articulations of alternative/commodified forms of organizations that are based in the art world and its institutional structures; understanding social phenomena, objects, things, and concepts and the fluidity of boundaries between them. As an interlude to the Uncertainty Seminars program, their short video The Anecdote (2018, sound, 2 min 15 sec —HD video loop) will be screened.
Dena Yagolecture
Dena Yago (1988) is an artist and writer that lives and works in New York. Recent solo exhibitions include Force Majeure, High Art (Paris, 2019), The Shortest Shadow, Atlanta Contemporary (Atlanta, 2018) and The Lusting Breed, Bodega (New York, USA, 2017). Her work has been included in group exhibitions at Museum of Modern Art Warsaw (Warsaw, PL, 2017); Hammer Museum (Los Angeles, CA, USA, 2016) and Kunsthalle Bern (Bern, CH, 2014). She has a forthcoming book of poetry titled Fade the Lure, co-published with After Eight Books and High Art Gallery, out this September. Yago's writing has appeared in Frieze Magazine, e-flux and Flash Art. Yago is a founding member of the collective K-HOLE, active from 2010 - 2016. In Uncertainty Seminars: Other than Art's Sake, she addresses the creation of value in a hyper-branded world, questions of content and exchange and how the blurring of lines between fields of art, marketing and activism can work either way.
Yamuna Forzanirainbow tea party
Based in The Hague, Yamuna Forzani is a fashion and textile artist as well as an LGBTQ+ activist from the UK. "Exploring the theme of identity is essential to me when I look at the world. The subject of the research is important because I want us to move towards a boundless society as we are questioning the gender roles and becoming more accepting of other's individuality. In my work I reject the traditional blue-print of the fashion world and try to present the alternative in a positive way. I want to set an example because I love to work with the body, for me that's something very enriching.
My dream is to live in a queer utopia and I try to present that ideal as a revolutionary practice. I want to create the ability to arouse the desire for a better life by stimulating the imagination of the viewer. I am an active member in the LGBTQ+ and Ballroom community – an underground scene centering queer and drag performance, stemming from the 1980s – as a member of the House of Comme Des Garcons. Walking balls is a very political and exhilarating experience. It marries dance, gender performance, fashion, music, politics, representation, and acting.
Utopia is a really important concept to me as it provides an aesthetic form through which artists can engage effectively with politics and potential subject matter. That is also why collaboration is so important to me, as working with different people gives a whole other perspective".
For Uncertainty Seminars: Other than Art's Sake, Yamuna organizes a Rainbow Tea Party, with Bella Dolcii Angels Mizrahi, Noa Angels Mizrahi, Miila Angels Prodigy and Raoef Aalias, presenting different personalities from the community, who share their crafts and stories in an intimate and indulging setting.
Simone Zeefuikpresentation
Simone Zeefuik is an Amsterdam based writer, cultural programmer and organizer whose work centres around representation, inclusivity and social justice. She focuses on Africentred perspectives, decolonizing knowledge institutes, the illegalized members of the Afro-Dutch communities and (digital) archives. Her main interests are film, literature and theatre. Zeefuik is currently working on finalizing the script of Nour, her play about a woman-led, Afro-Dutch party making its way to the Dutch House of Parliament. She's a programmer at Bijlmer Parktheater, lectures at the Sandberg Institute, teaches at Zawdie Sandvliet's Afro-Dutch Studies course, often collaborates with the Research Center for Material Culture, but also self-initiates projects such as #RewriteTheInstitute, Blaccupy and the Topple Dem Statues-workshop series. Her presentation zooms in on her work and forms of activism in- and outside of cultural institutions.
www.lazeefuik.com
left gallery: rite of access & Ryan Kuointermezzo
left gallery is an online platform that produces and sells works of art as downloadable objects. rite of access is the project now on view in Stroom's exhibition space in which left gallery questions access to public art in the digital age. It takes place in the framework of our new experimental program Our House Your Home in which various organizations are invited to our premises to do the things they find the most urgent, fitting, or challenging. In the exhibition, artist Ryan Kuo presents his new work Faith, a screen-based AI entity that uses voice chat and digital animation to sketch a symbiotic relationship between right-wing trolls and centrist liberalism in popular discourse. In Uncertainty Seminars: Other than Art's Sake, the piece will be collectively activated with the audience.
stroom.left.gallery
DISCOURSE | Katayoun ArianDJ Lecture
Katayoun Arian (IR/NL) is a freelance curator, writer and researcher based in Amsterdam. Her practice is informed by contemporary art, political history and decoloniality, new media technology, audio-visual cultures and alternative organizational practices. As an interdisciplinary practitioner, her practice oscillates between writing, research, curatorial work, community organizing and DJ-ing as a way of shaping a self-directed mix-mode research and curatorial practice that moves beyond the confines of disciplinary categorization. Working towards an organic interconnectivity between different fields of enquiry, her projects range from exhibitions, music events, panels and lectures, to screenings, reading circles and other forms of interdisciplinary and collaborative work, with the common thread being an orientation towards different ways of knowing, sensing, and being, while drawing from feminist and decolonial philosophies as a foundational principle.
Her sets as a DJ, under the moniker 'discourse', likewise defiantly resist genre categorization, mixing ambient and dance music from all over the world, bass, tribal and funky grooves with dark electro and techno. In 2017, she initiated Fwd: Gher Space, a project that focuses on curating music from around the world, and particularly from women and female-identifying musicians and performers. Placing an emphasis on the question of what aural and immaterial archives can do in rethinking our cultural imaginaries and sonic imagination, her radio shows on Red Light Radio entitled 'Female Vocalists from Iran (and Beyond)', activate and rearrange aural archives from 1930s all the way to 1980s from Iran, but also from the Arab world and beyond. By rearranging these archives and by drawing connections between different musical traditions, each mix explores the ways in which archives, their meaning and function can change by way of a different activation and rearrangement. Fwd: Gher Space is also a platform that strives to connect music loving audiences, VJs, dancers, artists with different experiences, cultural backgrounds, and gender identities, to diverse musical traditions, communities, and venues. The Amsterdam-based platform furthermore provides studio space for a growing community of womxn, queer and non-binary identifying DJs in particular.
Katayoun has worked across different sites of the art and culture industry, including various contemporary art and educational institutions. Recent curatorial projects include the music and performance platform Fwd: Gher Space; a series of discursive events on 'decolonizing' globalized Dutch contemporary art institutions under the title Conversation Circle; the exhibition The End of This Story (And the beginning of all Others) (2015) and Voices Outside the Echo Chamber (2016), both at Framer Framed in Amsterdam; and Grada Kilomba: Illusions at Witte de With Center for Contemporary Art, Rotterdam (2017). Katayoun was a research fellow in the post-academic fellowship program of 2018/2019 at BAK, basis voor actuele kunst in Utrecht.
www.soundcloud.com
CONTACT
Stroom Den Haag
Hogewal 1-9
2514 HA Den Haag
+31 (0)70 3658985
info@stroom.nl
www.stroom.nl
STROOM THANKS